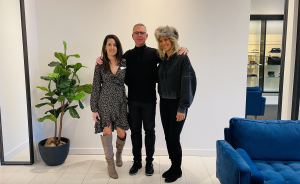 In February, we partnered with The Mall at Millenia's Personal Style Suite to help get Artistic Director, Jorden Morris, ready for his read carpet debut at Giselle, Orlando Ballet's inaugural performance at the new Steinmetz Hall! We were happy to talk to them and get more information for anyone who wants to have this amazing experience!
What is the Personal Style Suite? When did it begin, where is it located, etc.
The Personal Style Suite service began in October of 2020, it is currently operating in a temporary space.  Its' beautiful permanent location will have individual suites to accommodate 3 simultaneous private sessions.  Opening Fall 2022, the permanent location will be located on level 1, in the corridor off of Grand Court.
What are the services you offer?
We offer complimentary professional stylists to curate looks from a variety of stores based upon the client's individual preferences and needs.   Examples range from a seasonal wardrobe refresh, to one special occasion look, or solutions for weight fluctuation and hard to fit body types.   Stylists take the work out of shopping, leaving only the fun of trying on and choosing what to add to a wardrobe.
How many stylists do you have? Do any of them have any interesting backgrounds or expertise you can share with us?
We currently feature six stylists; each comes with a wealth of experience and knowledge.  They specialize in customizing a selection of items to choose from based upon the client's likes and dislikes, favorite brands and specific needs.  They love what they do especially sharing valuable tips on the shapes and colors that flatter, and key items that can bring an existing wardrobe on trend.
Are you open to a certain demographic or are you for anyone and everyone?
The program is for everyone; men and women of all ages and it is also valuable for teens.  Stylists select based upon the clients' favorite brands and work within their budget.  We request a minimum spend of $500 per session.
How was it styling Jorden for something like this? Have you ever been involved in styling someone like Jorden/in his position?
We enjoy engaging with clients from all walks of life.  Working with Jorden was especially exciting as he is new to the area, and the Giselle opening was a big night for Orlando.  It was so important that he walk out on stage feeling his absolute best!
How does the styling vary based on your clients? What is your goal for each client?
Our goal for each and every client is to instill confidence.  At one time or another we all need a little help in certain aspects of life.  Why not rely on a specialist, just as you would for any other service?  The beauty of this service is that it is complimentary!
You can find more information and book your session here!